Loi Suites Recoleta Hotel
Set amid the French villas and palaces of Recoleta, Loi Suites offers luxurious rooms 1.2 mi from Florida and Corrientes Avenue. Afternoon tea is served in the English winter garden.
Rooms at Loi Suites Recoleta Hotel have elegant warm gray or beige décor, with French windows offering garden views. All feature air conditioning, satellite TV and a CD player.
Guests can enjoy a breakfast with croissants, or a cheese plate served in the garden. La Fuente restaurant serves fine cuisine and wines.
Facilities at Loi Suites include an indoor swimming pool and gym. Guests can then relax with a therapeutic massage in the spa.
Llao Llao Resort, Golf-Spa
This property is 1 minute walk from the beach. Llao Llao Resort, Golf-Spa, the unique 5 star Resort in Bariloche, offers Studios and Suites with views of lakes, forests and mountains.
Surrounded by the Cerro Lopez and Tronador mountain peaks and the Moreno and Nahuel Huapi lakes.
The Resort has a 15-hectare park, including the 18-hole golf course, the marina, beach, solarium, heated indoor and outdoor infinity edge swimming-pools, Spa and Healthclub with sauna, Fitness Center and other leisure activities.
Handcrafted boards of solid Cypress and Pine-Hemlock wood were used for the floorings. The Hotel has two wings: Bustillo Wing and Lago Moreno wings.
Llao Llao has five restaurants. Guests can enjoy a wide variety of dishes, from International Cuisine.
Hotel Cumbres Puerto Varas
This property is a 8-minute walk from the beach. Hotel Cumbres Puerto Varas is in an impressive location, offering a panoramic view of Puerto Varas´s Llanquihue Lake and volcanoes Osorno and Calbuco. Its spacious rooms have balconies and free Wi-Fi.
Accommodations at 5-star Hotel Cumbres Puerto Varas includes air conditioning and 32-inch LCD cable TV. There is also a telephone, a mini-bar and a safe.
Guests can relax in the hot tub while admiring the lake view or have a sauna session. Facial treatment and massage are available at the spa. Facilities consist of a modern gym as well.
At Cumbres del Lago restaurant, guests enjoy a selection of international dishes with varied ingredients. Bar Araucaria offers appetizers and a selection of cocktails and Chilean beers. Hora del Té serves sandwiches, light meals, hot and cold drinks.
Parking is free in Cumbres Puerto Varas. Many attractions in the area are walking distance from the hotel. Lago Llanquihue, the second biggest lake in Chili, is right in front of it, and Puerto Varas´s casino is 5 blocks away.
Renaissance Santiago Hotel
Renaissance Santiago Hotel offers a seasonal outdoor pool and free WiFi in Santiago. Parque Arauco shopping center is just 2,300 feet from the hotel. Renaissance Santiago Hotel has been awarded the Leed Gold Certification.
The rooms have a contemporary and sophisticated décor. They have elegant patterned carpets and modern art on the walls. Each features a private bathroom with free toiletries, cable TV and air conditioning. A city view or mountain view is offered.
The hotel consists of a restaurant with international cuisine. Guests can make use of the onsite fitness center, spa and wellness center. Renaissance Santiago Hotel provides 24-hour front desk assistance and a bar. There is a garden and a elevator on the property.
Arturo Merino Benítez International Airport is located 15 mi away from the hotel. Valle Nevado ski resort is 34 mi from Renaissance Santiago Hotel. Free private parking is possible on site, without reservation.
Kenton Palace Buenos Aires
Featuring a restaurant and a wine cellar, Kenton Palace Buenos Aires offers rooms with free Wi-Fi and plasma TV in traditional San Telmo District. Buenos Aires' Main Square is 1,000 feet away.
Decorated with parquet floors and warm-colored bedspreads, rooms at Kenton Palace are fitted with air conditioning and heating. All of them have private bathrooms with toiletries.
A buffet breakfast is served daily. International dishes and pizza specialties can be ordered at the restaurant, as well as a wide variety of wines from the property's cellar. Drinks and snacks can be enjoyed at the bar.
Argentina's Government House is 1,000 feet away.
Esplendor Plaza Francia Hotel
Located in the heart of Recoleta district, Esplendor Plaza Francia offers amazing views of the city and unique rooms with an upscale décor. The property also has a fitness center available.
Rooms at Esplendor Plaza Francia have air conditioning, LCD TVs and a Nespresso machine. On the top floor, the hotel features an exclusive VIP suite with an amazing view of La Recoleta.
A buffet breakfast with fruits, natural juices and pastries is served daily. Guests can enjoy it in the property's dining area or in their own rooms for no charge.
This hotel features a large art collection. It is located a few feet from the Palais de Glace, 1,500 feet from the Museum of Fine Arts and Design Buenos Aires and 2,150 feet from the cemetery of Recoleta.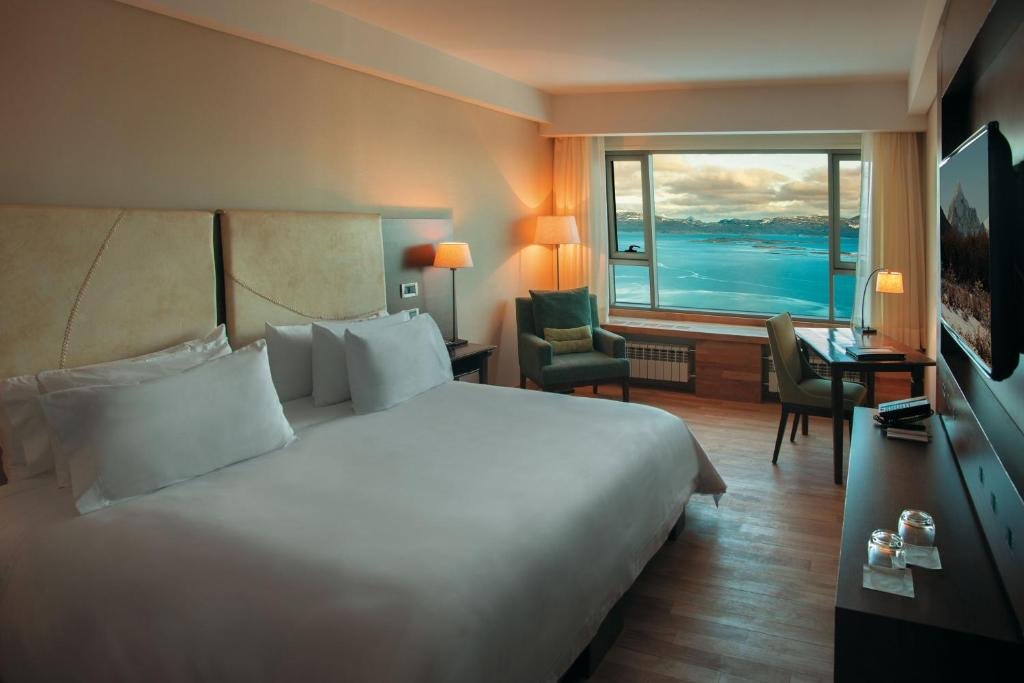 Arakur Ushuaia Resort & Spa
Boasting impressive panoramic views and two swimming pools, Arakur Ushuaia Resort & Spa offers luxurious rooms with free WiFi access. The property is located in Cerro Alarkén Natural Reserve.
Rooms at Arakur Ushuaia Resort & Spa are spacious and feature a luxurious and comfortable décor. All of them have air conditioning, heating, a flat-screen TV and a private bathroom. They also have a mini-bar, a desk and impressive views of the sea or mountains.
Arakur Ushuaia Resort & Spa also has a modern fitness center, an indoor and an outdoor swimming pool. Guests can enjoy La Cravia, the on site restaurant that serves delicious local and international cuisine, and a lobby bar.
Other services offered at the property include ski storage, meeting facilities, laundry service and a concierge. Massage treatments can be requested for an extra fee.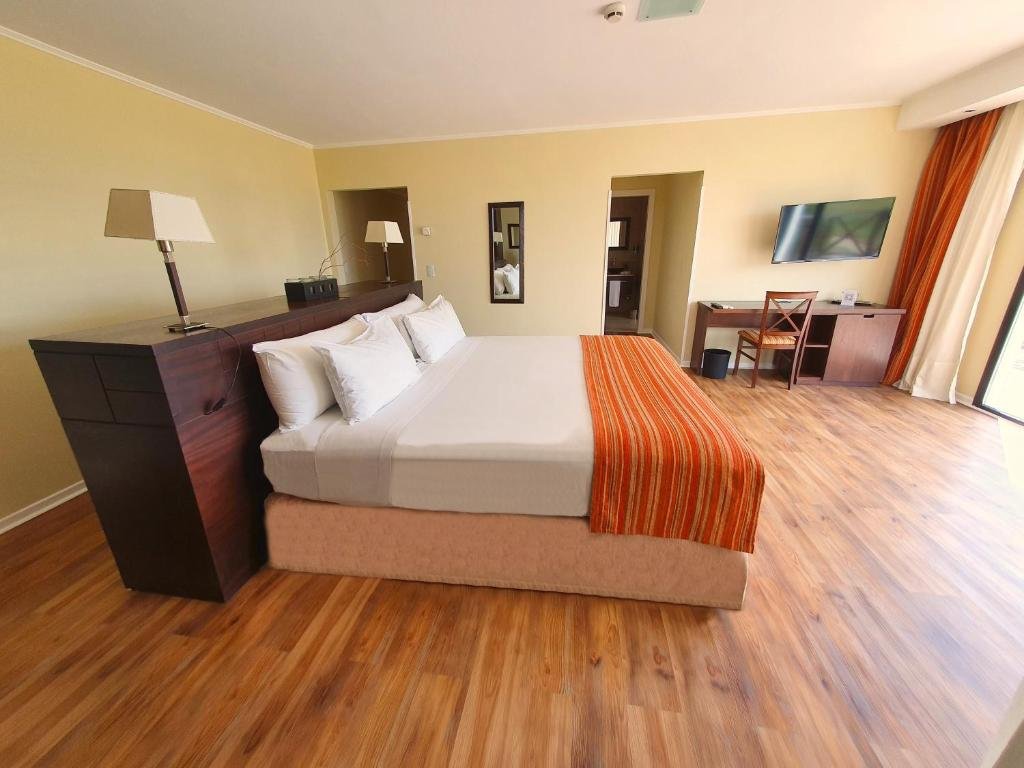 Xelena Hotel & Suites
Xelena Hotel & Suites is located at Argentino Lake in El Calafate. Guests staying here can admire the landscape while unwinding in the Health Club, where a 70-square-yard swimming pool is also located. Free WiFi, parking services and shuttle to downtown are provided.
Each unit is fitted with a mini-bar, safe, and LCD TV. Guests can opt between rooms overlooking the lake or city. All of them features private bathroom facilities with free toiletries, a bathrobe and a hairdryer.
Xelena Hotel & Suites also offers fitness and wellness facilities, including heated swimming pool next to a hot tub and a sauna. Massage treatments and spa sessions are available for an additional cost.
In addition to the Health Bar, dining options also feature, Mora Restaurant, the Pierrot Bistro and Huertas y Fuegos with wonderful views of the lake.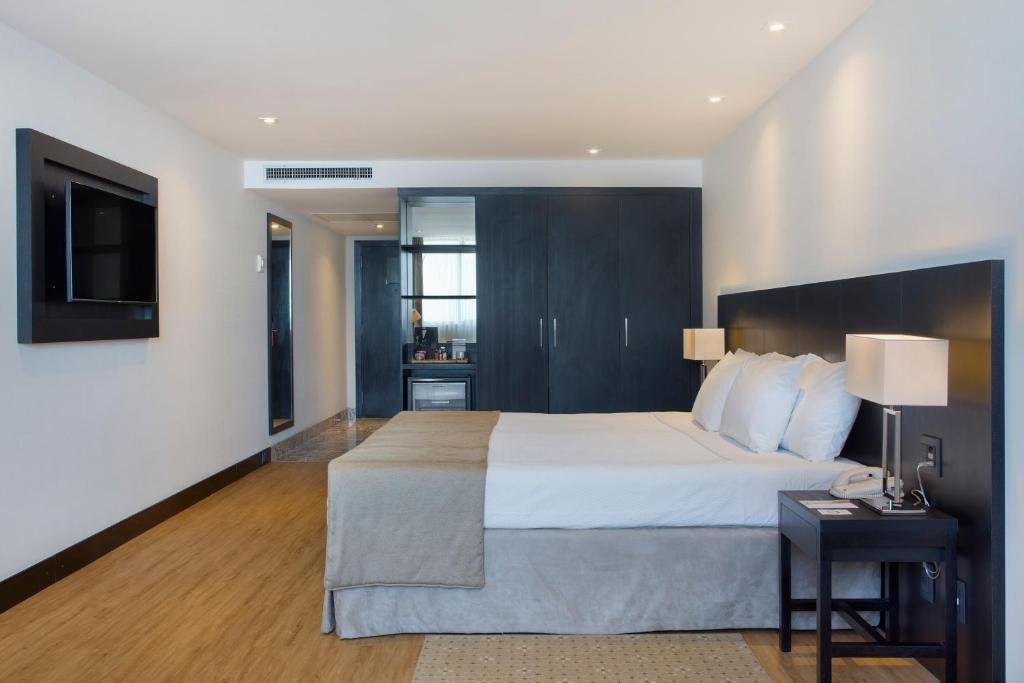 Windsor Leme
This property is 1 minute walk from the beach. Windsor Leme is ideally located opposite lively Leme Beach. Guests can find a variety of restaurants, bars and shops along Avenida Atlantica, where the hotel is positioned. Free WiFi is available in all areas.
Windsor Leme offers modern rooms with air conditioning, a TV and a mini-bar. They are elegantly styled with wooden furniture and contemporary décor. Some rooms offer splendid Atlantic Ocean views.
Every morning a full buffet breakfast is served, which offers a variety of fresh fruits, breads and sweets. Guests can also enjoy a selection of local and international specialties from the in-house restaurant and bar.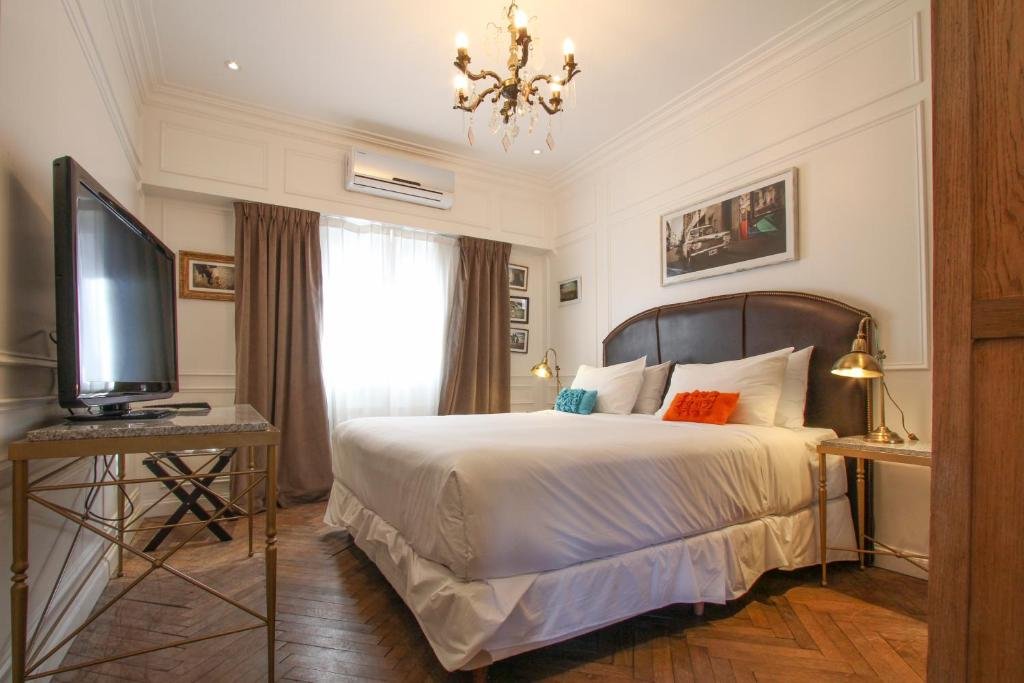 Hotel Clasico
Centrally located in Buenos Aires, Hotel Clasico offers comfortable rooms with free WiFi access. The hotel is 1,950 feet from Plaza Serrano Square.
Rooms at Hotel Clasico feature a modern and lively decor with detailed furnishings. They are equipped with air conditioning, safety deposit boxies, flat-screen cable TVs and private bathrooms.
The property also offers 24-hour front desk assistance.
The hotel is 0.7 mi from Plaza Italia Square and 0.9 mi from Hippodrome. Aeroparque Jorge Newbery Airport is 1.9 mi away.
Bourbon Cataratas do Iguaçu Thermas Eco Resort
Ideally located on the borders of Brazil, Argentina and Paraguay, this completely nonsmoking 5-star resort hotel offers modern accommodations just 14 mi from the Iguassú Falls. Free WiFi is available throughout the property.
The tastefully decorated rooms may feature pool or garden views. They provide cable TV and private bathrooms with a shower.
Bourbon Cataratas is surrounded by lush, tropical gardens. It offers a variety of activities that can be enjoyed by all, including 2 swimming pools, a tennis court, and Kids Club. For relaxation there is a day-spa with massage services and sauna at an extra charge.
Sofitel Buenos Aires Recoleta
Featuring polished marble floors and stylish rooms, Sofitel Buenos Aires Recoleta offers impeccable 5-star style and services.
Air-conditioned rooms feature flat-screens with satellite TV and mini-bars. Rooms are styled in cream-colored hues, have stylish mahogany furniture, and floor-to-ceiling curtains. Bathrooms have marble fittings and include separate bath and shower.
A full buffet breakfast is offered. The on-site restaurant serves contemporary Argentinean cuisine. There is 24-hour front desk assistance and airport shuttles are available for an extra charge.
Sofitel Buenos Aires Recoleta is 13 blocks from Colon Theater and historic Recoleta Cemetery is 8 blocks away. Jorge Newbery Airport is 4.3 mi from the property.
Iguazú Grand Resort Spa & Casino
With 2 swimming pools, spa facilities a casino and luxurious décor, the hotel offers tennis courts, live shows and rooms with hydromassage tubs and free Wi-Fi. Private parking is also free. Iguazu Falls are a 10-minute drive.
At Iguazu Grand Resort Spa & Casino guests can exercise at the gym and treat themselves with massages or beauty treatments in a lavish 5-star ambiance.
Air-conditioned rooms have French style furniture, elegant draped curtains and are fully carpeted. They are equipped with seating areas, mini-bars and balconies with undisturbed garden views.
A full buffet breakfast with tropical fruits and treats is served daily in the breakfast lounge overlooking the pool. Guests can enjoy chef-designed specialties at the restaurant. Cafe Magic hosts live shows in a stylish amphitheater with bar service.
The Grand Iguazu offers babysitting services, and offers ping-pong, play station, a pool activities for children. An on-site hair salon and a souvenir shop are available. Shuttles to Iguazu Airport are available. Tancredo Neves Bridge is 3.1 mi away.